How to Update the Satellite Imagery on My Map Follow
If there is a location in which the satellite background image in the Halo App is not up-to-date and it prevents you from effectively creating Halo Fences in that area, then you can manually update the satellite imagery from your app.
Possible reasons to update your satellite map imagery include:
You live in a newly constructed house and it doesn't appear on the map

Structural changes have been made to your property, such as the installation of a pool or an addition to your house

Trees on your property block satellite imagery from showing your full yard during certain seasons
To update your satellite map imagery in the Halo App:
1. Go to My Map
2. Tap the Layers button on the right side of the screen - it looks like 3 sheets of paper stacked on top of one another. This will take you to the Map Settings card.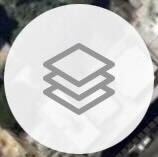 3. Tap Map Updates.
Here, you will see any updates you've already made, if applicable.
To delete an existing map update and revert to the original satellite background in that area, swipe left on that update and tap Delete.
4. Tap Select new area to update under Map Updates
Find the area of the map that needs an update by panning and zooming with your fingers (tap the white and blue circle on the right side of the screen to jump to your current location).
Once you've honed in on the area of the map that needs an update, tap Next at the bottom of the screen.
5. Pick a new source of your map imagery from the list of potential sources.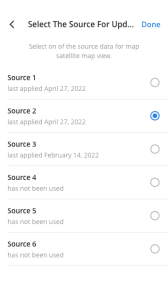 Your map will automatically update within 10-15 mins.
If

the new map imagery is not to your satisfaction, you can continue to try new map sources until you find one that you like.

Swipe left on any of the map sources to delete it from your account.
6. To choose a new map source in an area that you already edited, go to the Map Updates screen and select the area you would like to change.
Tap Change and select a new map source. You can continue this process until you find a map source that works well for you.

This process can be repeated in up to 50 different locations on the map, so you can optimize the background imagery in important places like your house, your friend's house, the beach, or the park.