When Does the Collar Give Prevention Feedback? Follow
Environment
Answer
Correction Logic
The Halo Collar is programmed to only give corrections when certain conditions are met. It will only offer a correction if your dog is moving away from safety. So if your dog leaves its safe area, it will be given Emergency Feedback until it stops moving or starts heading back to safety - at which point the collar will offer Encouragement Feedback to lead your dog back to its Halo Fence. The collar will never correct your dog when your dog is not moving, nor will it correct them when they are heading back to safety.
Types of Feedback
The Halo Collar offers multiple layers of protective feedback to keep your dog safely inside of its Halo Fence. These layers include Warning Feedback, Boundary Feedback, and Emergency Feedback.
At each of these junctures, the feedback your dog receives is fully customizable; options for feedback include various sounds, vibration patterns, and static correction.
This information is accessible in the Halo App; when a fence is selected, you will see the Warning Area and Protection Zone, as well as a small question mark in a circle to the right. Clicking on that blue question mark circle (indicated by the red arrow in the image below) will give you a pop-up that explains when these different types of feedback are administered.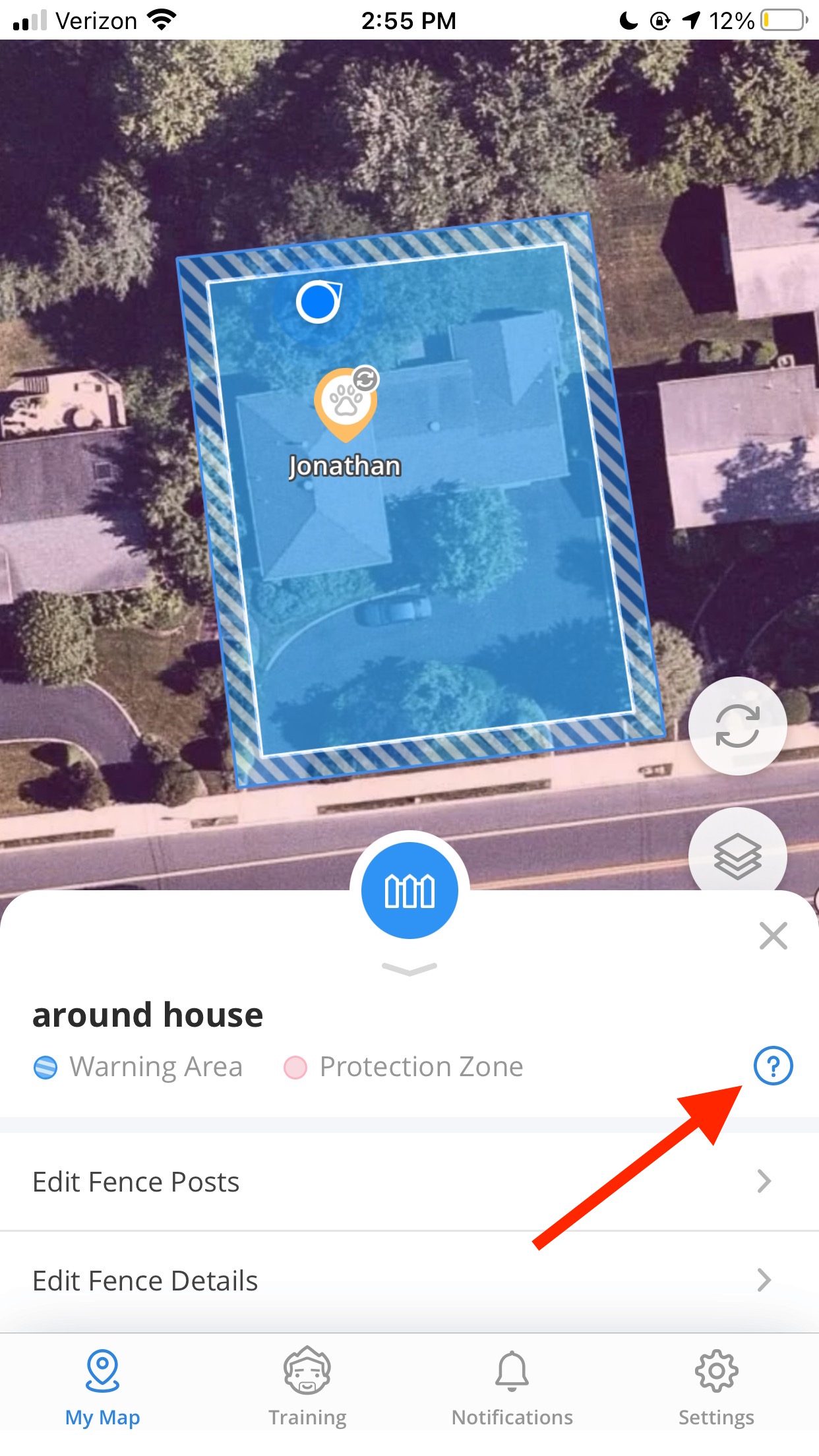 To manage your collar's feedback settings, see the article: "How to issue or manage Prevention and Encouragement Feedback"
Warning Feedback
Warning Feedback occurs when the following conditions are met: Your dog is inside the fence; it enters the warning area (which begins about 7-10 feet [2.1 - 3.0 meters] from the fence); and it is actively moving toward the boundary. This is the first line of defense.
Boundary Feedback
Like Warning Feedback, the collar offers Boundary Feedback when the dog is still inside the fence, but continues to approach the boundary even after receiving the Warning Feedback. If your Boundary Feedback prompt is different than your Warning feedback prompt (i.e. your Warning Feedback is a beep and your Boundary Feedback is a vibration), then your dog will receive both of these corrections simultaneously.
Emergency Feedback
If your dog moves past the fence boundary, it will trigger the Halo Collar's Emergency Feedback. While still inside of the protection zone (which extends well past your fence boundary), your dog will continue to receive Emergency Feedback as long as it is moving away from the boundary.
When your dog stops moving or starts heading back home, the Emergency Feedback will stop and Encouragement Feedback will begin to prompt your dog to continue back towards the fence.
The collar will not give your dog a correction when it approaches and re-enters the fence from the outside.
Low/High GPS - used to be Indoor/Outdoor Detection
Your Halo Collar uses GPS data to automatically determine if it is indoors or outdoors. The Pet Card in your app will either indicate a 'Low GPS', 'High GPS', or 'Medium GPS' connection.
If the collar determines it is indoors (Low GPS), then it will not administer any preventative feedback. If it has a 'Medium GPS' (Hybrid GPS) connection, that means that it is either indoors but receiving some stronger GPS signals, or it is outdoors but some of the signals are being blocked. In the 'Medium GPS' state, the collar will not offer prevention feedback, but will instead give your dog a Return Whistle if the collar thinks it is passing your Halo Fence boundary. Use this article to adjust your collar's GPS level settings to work better for your environment. You should get consistent High GPS level readings when the collar is being worn outside in the open and it should mostly show as being in low GPS when it is being worn indoors. Allow medium GPS to be a buffer area that you would rather see the collar go into when inside so the full fence preventions can be administered while outside.