How to Issue or Manage Prevention and Encouragement Feedback Follow
Objective
Explain how to set your preferences for encouragement and prevention feedback for your pup, including which prompts they will receive, and at what volume/intensity level
Environment
Background
Note: Y

ou should complete the

User Training in the Halo App under the Training tab b

efore you begin training your dog.

If you have completed this training, there is a lesson in your Halo App titled "Section 02: Halo Beacon Training - Beacon Training Part 1: Finding the Right Prompts" that will walk you thought setting up feedback.
Important: Please note that warning feedback and encouragements are an important part of the Halo Collar behavior training and we strongly urge that you complete the Halo Collar Behavior Training section in the App before attempting to manually send warning feedback or encouragements to your dog. Additionally, as part of the Behavior Training, you will receive instruction to set the warning feedback to the minimum level required to get the appropriate response for your dog. It is important that these settings are utilized in conjunction with the behavior training.
Prevention feedback or warning feedback:
Warning feedback is a stimulus provided by the Halo Collar that occurs at three levels: audible, tactile, and static. During initial training, static correction will more effectively train your dog to respond to the audible or tactile warning-level correction. Soon, your pet will respond to just the warning as the primary correction. However, the energy level of your dog may be high enough that—even for a well-trained dog - the dog becomes distracted and ignores a warning. The static correction will overcome such significant distractions and may save your dog's life.
Encouragements:
Encouragements are sounds that your dog will associate with "good" behavior. There are three types of encouragements that are utilized in the training:
Good dog: a

sound that your dog will associate with good behaviors

Heading home: reinforcement for good behavior after multiple unsafe behaviors
Whistle: a s

ound that will teach your dog to return to you
Procedure
How to set and/or adjust the intensity levels of the encouragements and corrections:
Click on the

My Map

icon at the bottom of the screen.

Tap the pet whose settings you would like to change.
Swipe up on the Pet Card to open it fully.
Click Feedback Settings in the bottom right corner of the Pet Card
You will now see drop-down menus for Prevention and Encouragement feedback.

Tap either drop-down menu to see the full set of options for that kind of feedback.

Here, you can change the type and intensity of feedback prompts your dog receives during specific situations, such as when the collar is giving Warning Feedback, Boundary Feedback, Emergency Feedback, Good Behavior, Return Whistle, or Heading Home prompts.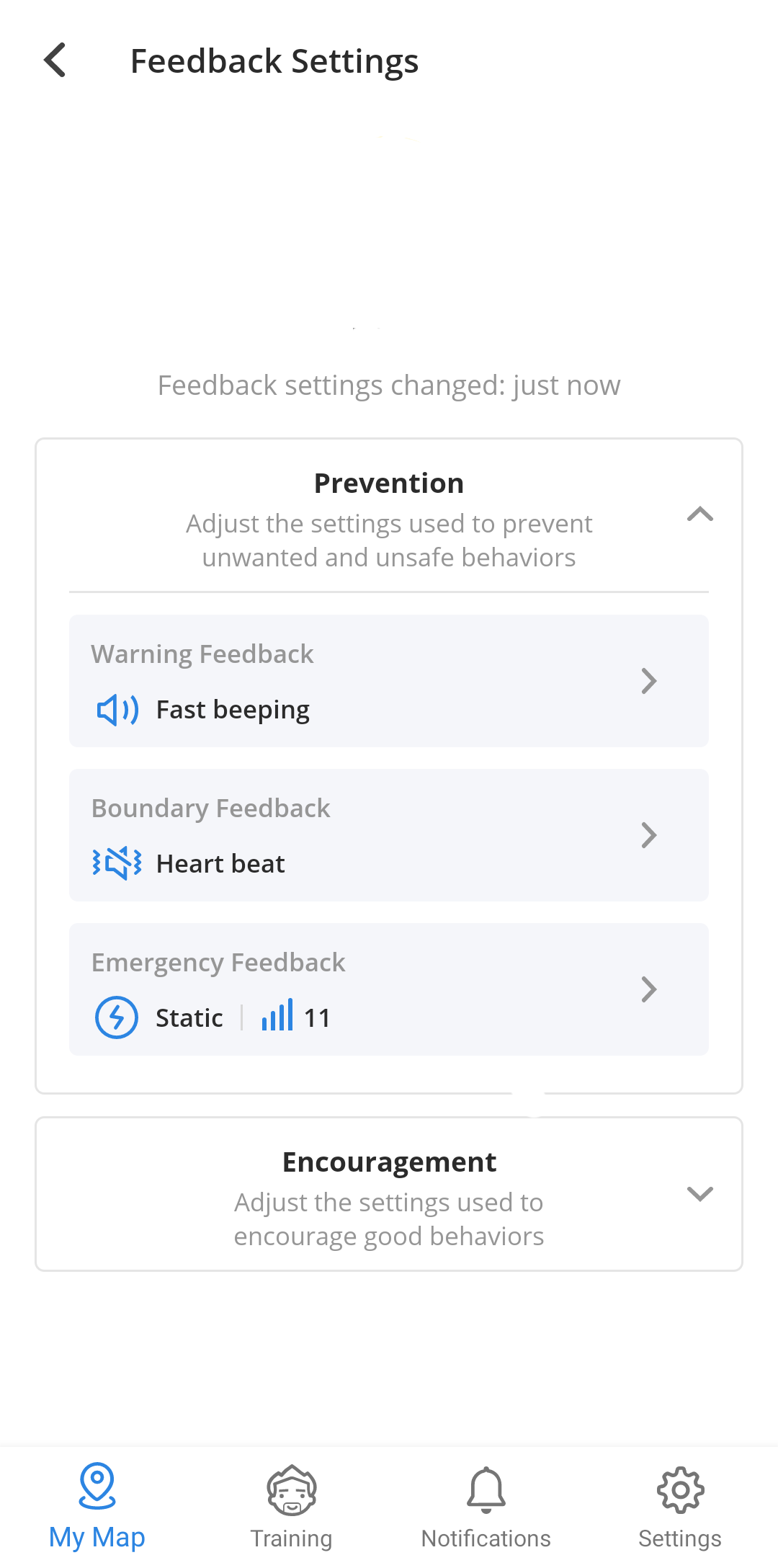 How to manually send encouragement or a prevention to your pet:
To send an Encouragement or Prevention from the My Map screen :
Click on the

My Map

icon on the bottom of the screen.

Select the pet who you would like to send an Encouragement or Prevention to

Click the blue and white Hand icon on the top left portion of the Pet Card.

Tap on the feedback you would like to send to your dog.

This feedback will be applied to the collar instantaneously if you have a Bluetooth connection. Otherwise, the signal is being sent from your phone to the collar through the internet; This may be instantaneous, or take a few extra seconds, depending on how strong your connection is.

Click Close to exit the Instant Feedback screen