How to Add a Beacon to Your Account Follow
Important note ONLY for users who used Beacons prior to the release of "My Beacons":
If you have not added any Beacons to your account, your Halo will respond to all Halo Beacons.
Once you add a Beacon to your account, your Halo will no longer respond to all Beacons and will only respond to Beacons on your account. 
How to add a Beacon:
Ensure the Bluetooth setting on your phone is on
Go to the Settings tab and tap Beacons, then Add Beacon on the next screen
Make sure the Beacon you are adding is turned on: 

Press down on the Halo Logo on the Beacon and hold down for 5 seconds, until the blue light blinks once with a single long blink.

When you see the blue 'power' light long-blink one time, your Halo Beacon is now turned on.

If the 'power' light blinks 5 times, your Beacon is now turned off.

NOTE:  After turning on your Beacon, it can take about 30 seconds for your Beacon to appear on the list of nearby Beacons.

Your phone will search for nearby Beacons, and any Beacons that are in range will pop up on the screen with their serial numbers.

Note the serial number on the back of your Beacon; it should be something like "AC233F 852872". 

Tap the Beacon that you would like to add to your account

Name the Beacon whatever you'd like, such as 'Beacon 1' or 'Living Room' or 'Office'

Set the Beacon radius based on how large of a 'keep-away zone' you would like to establish. Your Beacon ranges can always be adjusted in Settings -> Beacons

Note:

The 

Beacon

 radius is spherical, not flat, which means that if you set your 

Beacon's

 radius to a high setting, it is possible for your dog to trigger 

Beacon Feedback

 when they are on another floor in your house. Keep this in mind when setting your radius.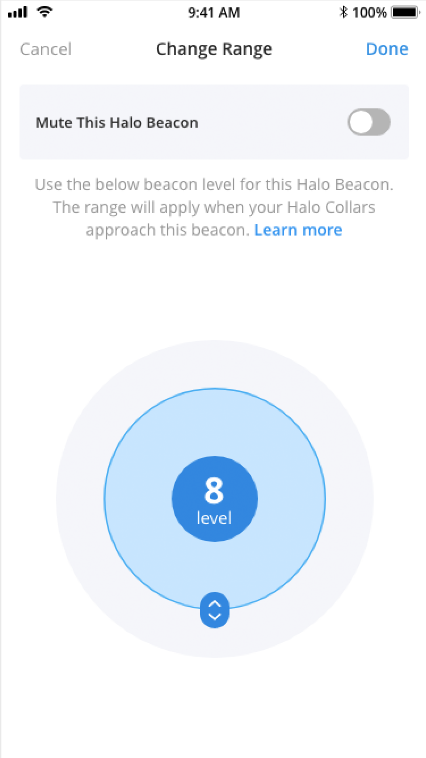 Once a Beacon has successfully been added, your Beacon screen should look like this: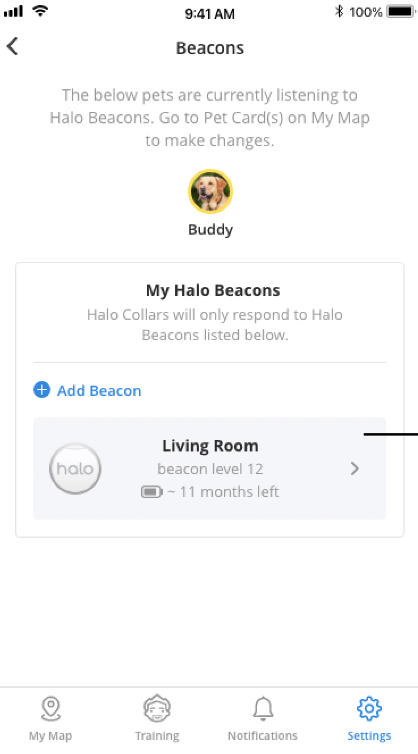 Follow the same process to add any more Beacons that you have. 
For more general information on Halo Beacons, see the article "What are Halo Beacons?"