How to apply a wired firmware update Follow
Objective
Apply a firmware update to your Halo Collar using the wired update method
Environment
Halo Collar
Your Computer
USB-C Charger
Background
The primary way to update your Halo Collar's firmware should be wirelessly. To do this, plug your collar into the charger overnight, and make sure it's connected to WiFi. When these conditions are met, the collar should automatically download and apply any firmware updates.
If you are still having trouble with a recent update to the firmware, please follow the steps below to manually complete a wired update.
Procedure
You will need:
Your Halo Collar

The charging cable that came with your Halo Collar, or other USB-C cable.

A computer (PC or Mac) -

with the ability to plug your Halo Collar in via the USB-C cable

(some computers require an adapter)

Please download the Zip File indicated below into an easily-accessible location, like your Desktop or downloads folder

(click here to access it for download). Use the download button of your browser to download the Zip File. NOTE: Do not

click on the file directly, because it may extract directly instead of as a "zipped" folder.

The file name to download is halo_fw_v0_3_04-update09082021.zip
Steps to complete:
Connect the collar to your computer with the USB-C cable

Open your "File Explorer" (Windows) or "Finder App" (Mac) on your computer. Note that there should be a variety of folders on the leftmost side.

Make sure your collar is resting, with the USB port facing up (as in, the collar is upside-down)

Long-press the power button on your Halo Collar (about 5 seconds), until your collar vibrates twice, and your battery LED flashes RED a few times. Your Halo Collar is now in "low-power mode", meaning that the core functionality is paused and the collar is ready to accept a firmware update.

You should now see the collar appear as a "drive" in your File Explorer or Finder App (likely D: or E: on a PC or "noname" on a Mac) as a USB drive. Double-click on the drive to open it. Inside, you will see folders named "log" and "config". You may also see a folder named "fw", but do not worry if it does--or does not--appear. It should look similar to the below (with or without "fw" already there):

Next, navigate to the location where you saved your "zipped" folder, named "halo_fw_v0_3_04-update09082021.zip

". It most likely downloaded straight to your "Downloads" folder. Right-click on the file, and select "Extract Here", or "Extract To". This will "un-zip" the folder so that you can open it.

Inside of your newly-unzipped folder, you will see a folder "fw". Inside it will be two files. Leave the files within the folder.

Select "copy" to copy the new "fw" folder from your computer

then navigate back to the Halo Collar's "drive" (note to remember: you've already learned that this could be called "D:", "E:", or "noname").

Paste the "fw" folder that you copied into the Halo Collar's drive. Do not open the pre-existing "fw" folder to paste the new one inside of it. Just open the "drive", and right-click to select "paste".

This should be done at the "Root" level (top level).

You may be asked if you would like to overwrite the existing "fw" folder.

If the "fw" folder was already there, it is ok to overwrite it.
You should now see the new "fw" folder, along with "log" and "config"on the Collar drive.
It should now look similar to this: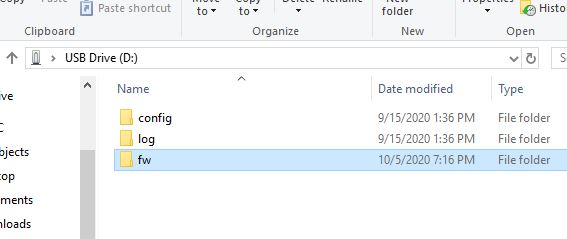 Power up the collar using a short-press of the power button (about 1 second), which will "wake" your Halo Collar up from low-power mode so that it can process your update and re-activate its core functionality; The collar Battery LED should turn Red and remain solid/blinking for a period of time while the upgrade is completed. Wait about 5 minutes for the upgrade to complete; the Battery LED will either change to solid green (meaning the update is complete, and the battery is fully-charged), or blinking green (meaning the update is complete, and your battery is still charging depending on battery level).
Your update is now complete! You will now have the the updated firmware that will continually allow for "over-the-air" updating while your collar charges at night and is connected to WiFi.
Important Note: Following a firmware update, you may be prompted to take your collar outside to allow it to re-calibrate to GPS signals. This calibration is very important for accurate GPS tracking. Please see "How to optimize GPS accuracy" for more details on re-calibration.
Thanks for your patience!