Topics covered in this article:
Under what conditions / circumstances does the collar provide a correction?
How big is the warning area before my dog reaches the fence boundary?
What is the collar's correction logic?
What types of feedback does the collar offer?
Correction Logic
The Halo Collar is programmed to only give corrections when certain conditions are met. It will only offer a correction if your dog is moving away from safety. So if your dog leaves its safe area, it will be given Emergency Feedback until it stops moving or starts heading back to safety - at which point the collar will offer Encouragement Feedback to lead your dog back to its Halo Fence. The collar will never correct your dog when your dog is not moving, nor will it correct them when they are heading back to safety.
Types of Feedback
The Halo Collar offers multiple layers of protective feedback to keep your dog safely inside of its Halo Fence. These layers include Warning Feedback, Boundary Feedback, and Emergency Feedback.
At each of these junctures, the feedback your dog receives is fully customizable; options for feedback include various sounds, vibration patterns, and static correction.
This information is accessible in the Halo App; when a fence is selected, you will see the Warning Area and Protection Zone, as well as a small question mark in a circle to the right. Clicking on that blue question mark circle (indicated by the red arrow in the image below) will give you a pop-up that explains when these different types of feedback are administered.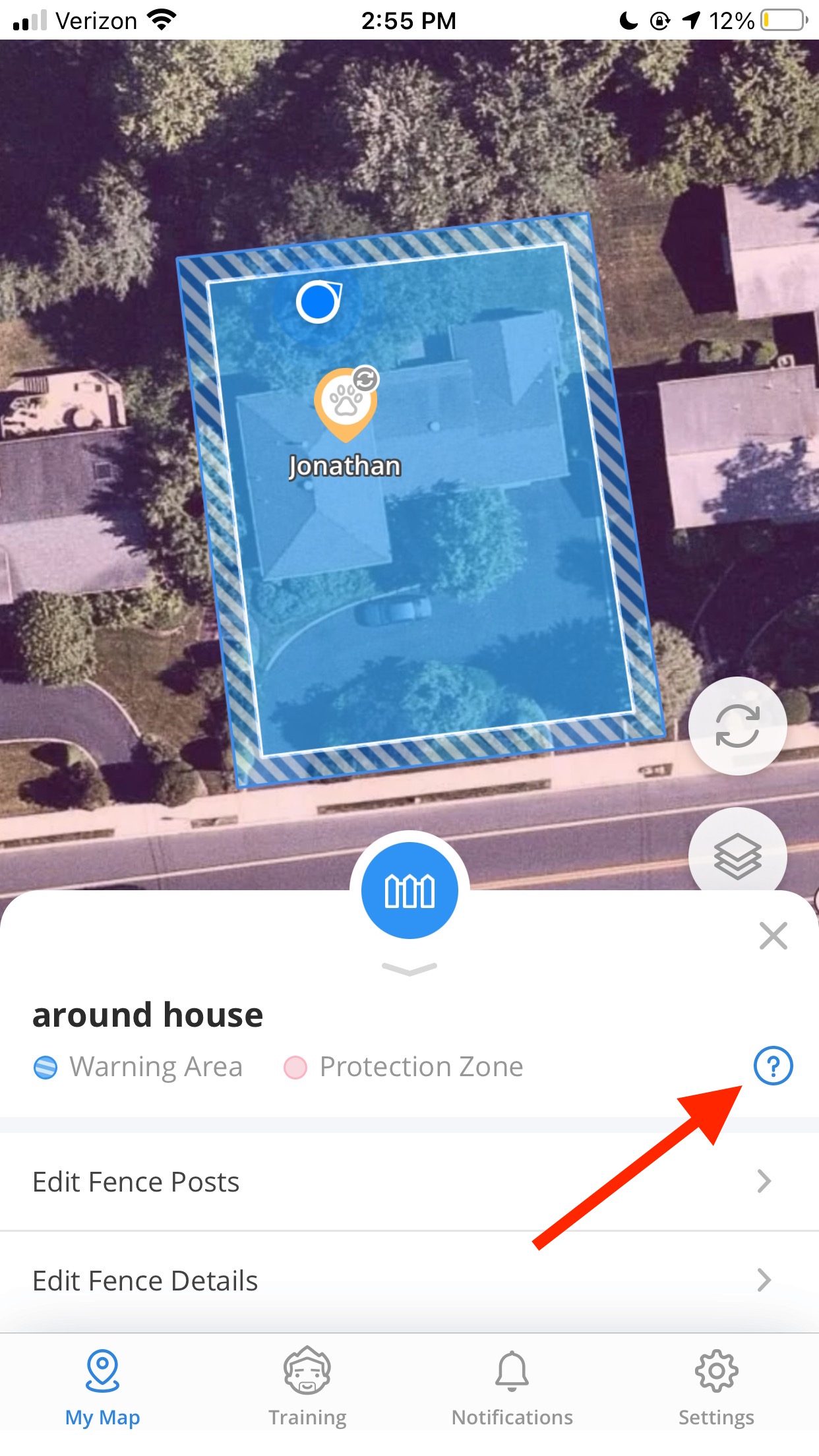 To manage your collar's feedback settings, see the article "How do I manage prevention feedback and encouragement feedback?"
Warning Feedback
Warning Feedback occurs when the following conditions are met: Your dog is inside the fence; it enters the warning area (which begins about 7-10 feet from the fence); and it is actively moving toward the boundary. This is the first line of defense.
Boundary Feedback
Like Warning Feedback, the collar offers Boundary Feedback when the dog is still inside the fence, but continues to approach the boundary even after receiving the Warning Feedback.
Emergency Feedback
If your dog moves past the fence boundary, it will trigger the Halo Collar's Emergency Feedback. While still inside of the protection zone (which extends well past your fence boundary), your dog will continue to receive Emergency Feedback as long as it is moving away from the boundary.
When your dog stops moving or starts heading back home, the Emergency Feedback will stop and Encouragement Feedback will begin to prompt your dog to continue back towards the fence.
The collar will not give your dog a correction when it approaches and re-enters the fence from the outside.
Indoor/Outdoor Detection
Your Halo Collar uses GPS data to automatically determine if it is indoors or outdoors. The Pet Card in your app will either indicate an 'Indoor GPS' or 'Outdoor GPS' connection. If the collar determines it is indoors, it will not administer any preventative feedback.
If you notice your collar repeatedly indicating an inaccurate indoor/outdoor status, please reach out to us so we can manually re-calibrate your collar's indoor/outdoor sensor.