How to Apply a Wired Firmware Update to Your Collar Follow
Objective
Apply a firmware update to your Halo Collar using the wired update method. This is only necessary if your collar can't update by being connected to Wi-Fi while charging.
Background
The primary way to update your Halo Collar's firmware should be wirelessly. To do this, plug your collar into the charger overnight, and make sure it's connected to Wi-Fi. When these conditions are met, the collar should automatically download and apply any firmware updates.
If you are still having trouble downloading firmware update wirelessly, please follow the steps below to manually complete a wired update.
Procedure
Firstly, you will need the following.
Your Halo Collar

The charging cable that came with your Halo Collar, or another USB-C cable.

A computer (PC or Mac) -

with the ability to plug your Halo Collar in via the USB-C cable

(some computers require an adapter)
Note: To perform the wired firmware update, you'll need to start by downloading a file that we will later transfer to the Halo Collar once it's connected to a computer.
Check your collar to confirm if it is a Halo 1, Halo 2, Halo 2+, or a Halo 3.

In the Halo App, tap Settings then My Collars and identify the collar that needs a wired update
Between the collar name and the serial number, it should say Halo 1, Halo 2, Ha lo 2+ or Halo 3.
Once you select one of the links above, depending on the browser you are using, there will be an option to view what you have downloaded. Look for a button that allows you to download the package that you select.

Connect the collar to your computer with the USB-C cable
Hold the power button for 5-7 seconds

, until your collar vibrates twice, and the Halo Logo light flashes RED a few times. Your Halo Collar is now in "low-power mode", meaning that the core functionality is paused and the collar is ready to accept a firmware update.
Please note that at this point, your computer will likely notify you that it has detected a new device being connected.
Open your "File Explorer" (Windows) or "Finder App" (Mac) on your computer.

You should now see the collar appear as a "drive" in your File Explorer or Finder App

For PC, it will likely be named D: or E:
For Mac, it will likely be named No Name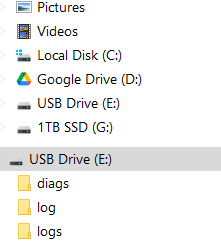 Double-click on the drive to open it. Inside, you will see folders named "log" and "config". You may also see a folder named "fw", but do not worry if it does--or does not--appear.
Important Note: If you have the Halo 3 Collar and your PC does not recognize your collar as a drive, ensure that the orientation of the charger appears as shown in the image below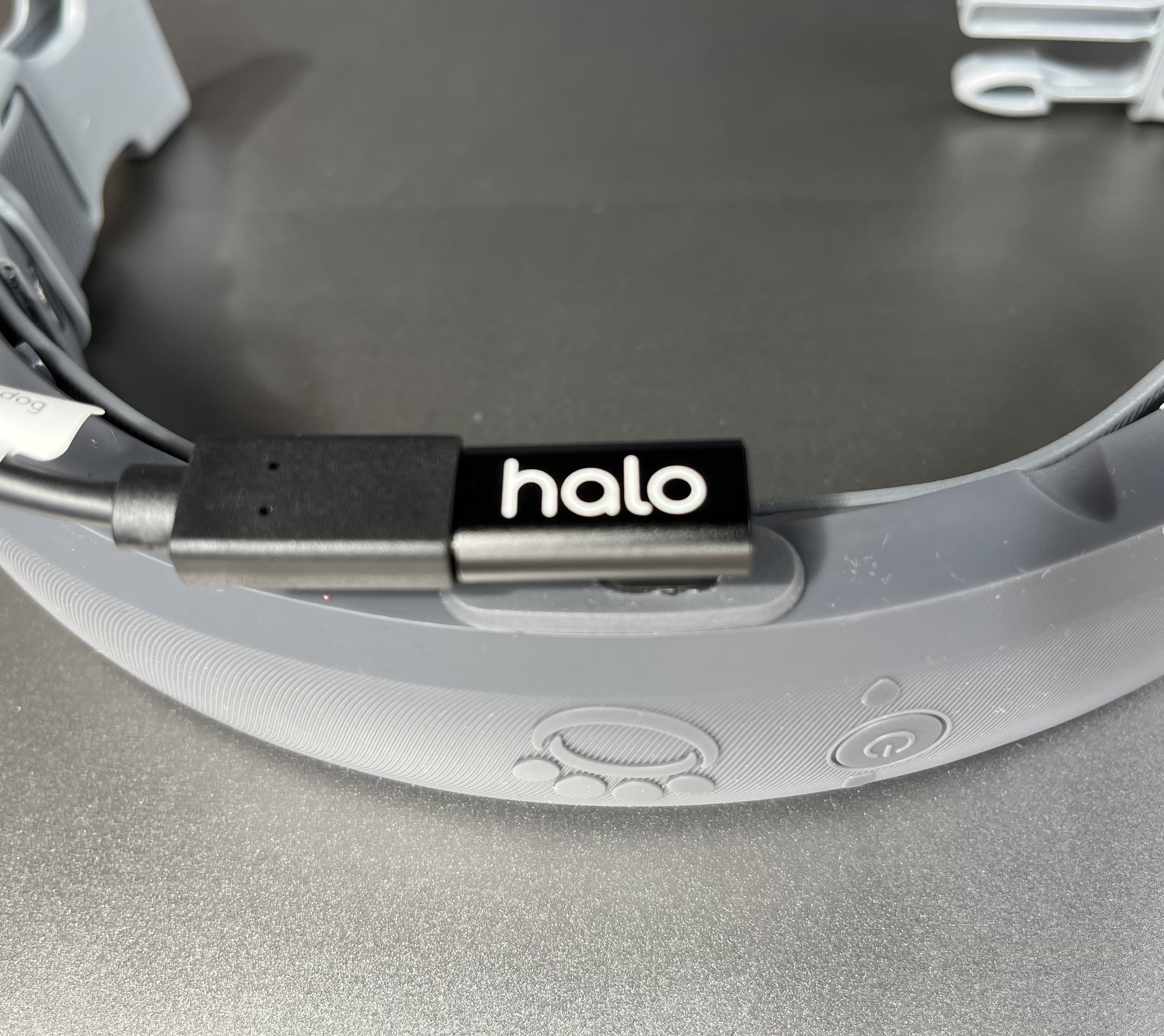 Next, navigate to the location where you saved your Tar file, which will be named named "halo-fw-package_1.6.30.v1.tar" or "halo-fw-package_1.6.30.v2.tar

" depending on which file you downloaded.

It most likely downloaded straight to your "Downloads" folder.

Select "copy" to copy the file from your computer and then navigate back to the Halo Collar's "drive" (note to remember: you've already learned that this could be called "D:", "E:", or "noname").

Open the drive that appears when you plugged in your collar. Right-click to select "paste". Be sure to not open any folders up and past this file in the main root of the drive.

You should now see the tar file, along with "log" and "config" folders on the collar's drive.
It should now look similar to this:

The Final Steps
Once you have copied the file to the drive, turn the collar on with a short press of the power button (about 1 second). The upgrade will begin within about 5 seconds, as indicated by the battery light blinking Red. The upgrade will take 3-4 minutes to complete.
Once the upgrade is complete, t

he battery light will either change to solid Green (meaning the battery is fully charged or blinking Green (meaning your battery is still charging).

Now, you need to start the collar one more time to finish the upgrade. Unplug the cable and turn the collar on with a short-press of the power button (1 second).
Your update is now complete! You will now have the updated firmware that will continually allow for "over-the-air" updating while your collar charges at night and is connected to the Internet. You will need to allow your collar to calibrate its GPS outside in an area with a clear view of the sky for around 30 minutes before using it on your dog again after a firmware update. Thank you for your patience!
Additional Notes
If you have any further questions and would like to speak to our live support team, please feel free to reach out using the following article: How to Contact Customer Support and we'll be happy to help!